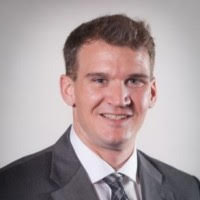 Scott Crowley and a team of Marine Judge Advocates and mass tort attorneys are aggressively advocating for Camp Lejeune victims. If you lived at Camp Lejeune between August 1953 and December 1987, you may be entitled to relief. Call Scott Crowley at 513-374-8266 to schedule a free, no-obligation consultation and learn whether you are eligible for compensation.
Based in Jacksonville, North Carolina, Marine Corps Base Camp Lejeune is the location of a public health disaster that may have impacted one million individuals. Between 1953 and 1987, military service members, their families, and civilian workers at Camp Lejeune were exposed to contaminated water.
Why Call Scott Crowley?
Scott served on active duty in the Marines as a Judge Advocate from 2011-2015. He was stationed at Camp Lejeune from 2011-2012. He has significant litigation experience having practiced in the Southern District of Ohio, the U.S. Sixth Circuit Court of Appeals, the First District Court of Appeals for the State of Ohio, the Ohio Supreme Court, Ohio trial courts, and military courts-martial under the Uniform Code of Military Justice. In addition to his private practice, Scott also serves as an attorney with Veterans Treatment Court in the Court of Common Pleas in Hamilton County Ohio and represents military veterans in that court. He is licensed to practice before the U.S. Court of Appeals for Veterans Claims and the U.S. Court of Appeals for the Federal Circuit. He is passionate about representing Marines, military veterans, and their families. Call Scott at 513-374-8266.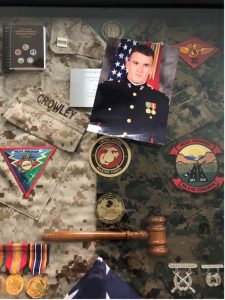 What will filing a lawsuit cost me?
All cases are handled on a contingency fee basis. That means there are no up-front costs or fees. There are only costs when we win and you are awarded compensation.
What Contaminated the Water?
The two treatment facilities that supplied water to Camp Lejeune were contaminated with a poisonous chemical called perchloroethylene (PCE). Commercial dry cleaners commonly use this chemical. Victims were also exposed to trichloroethylene (TCE). Research has shown that the water plant for Camp Lejeune had 280 times the maximum safety level of PCE as stated by the Environmental Protection Agency (EPA).
Serious Diseases Linked to Contaminated Camp Lejeune Water
Over the years, multiple studies have linked the toxic chemicals found in Camp Lejeune water to a number of serious health conditions, including multiple types of cancers. Studies have shown that service members and their families who worked at Camp Lejeune are at an increased risk of these diseases.
Some of the diseases below have been suspected of being linked to the toxic chemicals. If you have one or more of these medical conditions, or you suspect you may have them, it's important that you receive a thorough medical evaluation and discuss your case with an attorney. Diseases associated with toxic water include, but are not limited to, the following:
Scleroderma
Birth defects
Bladder cancer
Brain cancer
Breast cancer
Esophageal cancer
Prostate cancer
Pancreatic cancer
Ovarian cancer
Neurobehavioral effects
Miscarriage and Female Infertility
Multiple myeloma
Leukemia
Lung cancer
Liver cancer
Parkinson's Disease
Kidney cancer
Fatty liver disease (hepatic steatosis)
Renal Toxicity
Colorectal cancer
Aplastic anemia
Non-Hodgkin's lymphoma
Neurological Disorders Linked to Contaminated Water
Multiple neurobehavioral effects have also been linked to contaminated Camp Lejeune water. For example, a person may experience neurobehavioral performance defects, such as delayed recall, deficits, and visual perception. They may experience a decreased blink reflex. In other cases, victims experience mood effects such as depression and confusion. They may experience delayed reaction times and problems with visual perception, color vision, attention, and short-term memory.
The Camp Lejeune Justice Act
On August 10, 2022, the PACT Act was passed. This new law includes the Camp Lejeune Justice Act. As a result of this new law, many victims who were made ill after being exposed to the toxic water at Camp Lejeune will have a right to make a claim for compensation against the federal government. This new law allows individuals living and working at Camp Lejeune while the water was contaminated to file a claim for compensation.
Am I Eligible to File a Camp Lejeune Water Contamination Claim?
Not everyone who is stationed at Camp Lejeune is eligible for compensation. To obtain compensation, you must prove that you or your loved one lived at or worked at Camp Lejeune between August 1953 and December 1987. You will also need to show that you have been diagnosed with—or lost a loved one because of—cancer or another related illness linked to the toxic water.
What Is My Claim for Compensation Worth?
The value of your compensation claim depends on multiple factors. Generally, the more serious your illness, the more compensation you may be able to obtain. Victims of toxic water exposure can pursue the following types of damages by filing a claim against the government:
Medical expenses you've already incurred
Future medical expenses
Lost wages
Pain and suffering
Emotional trauma
Loss of society and companionship
Financial support related to the death of your family member if you pursue a wrongful death claim
Contact an Attorney in Cincinnati to Discuss Your Camp Lejeune Claim
If you were stationed at Camp Lejeune and were exposed to toxic water, and you've developed a medical condition or symptoms of a medical condition, call Scott at 513-374-8266. Scott Crowley can help you evaluate your legal options.